Can you imagine telling somebody in 1980 that people would be worried about inflation with the 10-year at 1.69% one day in the future?
Investors are worried about inflation because there is inflation. We just saw the biggest m/o/m change in core CPI since 1981.
Here's a good chart from Bespoke, which shows that CPI has accelerated for six straight months for the first time.
The bad news is prices are rising. The good news is we can explain why.
Matthew Klein at Barron's wrote that "Most of that increase, however, can be attributed to a few categories that collectively account for just 13% of consumer spending."
The largest price increases are happening in areas that were directly impacted by the pandemic. This table from Michael McDonough breaks it down. Used cars and trucks, which climbed 10%, were the biggest contributor to the 0.9% rise in core CPI.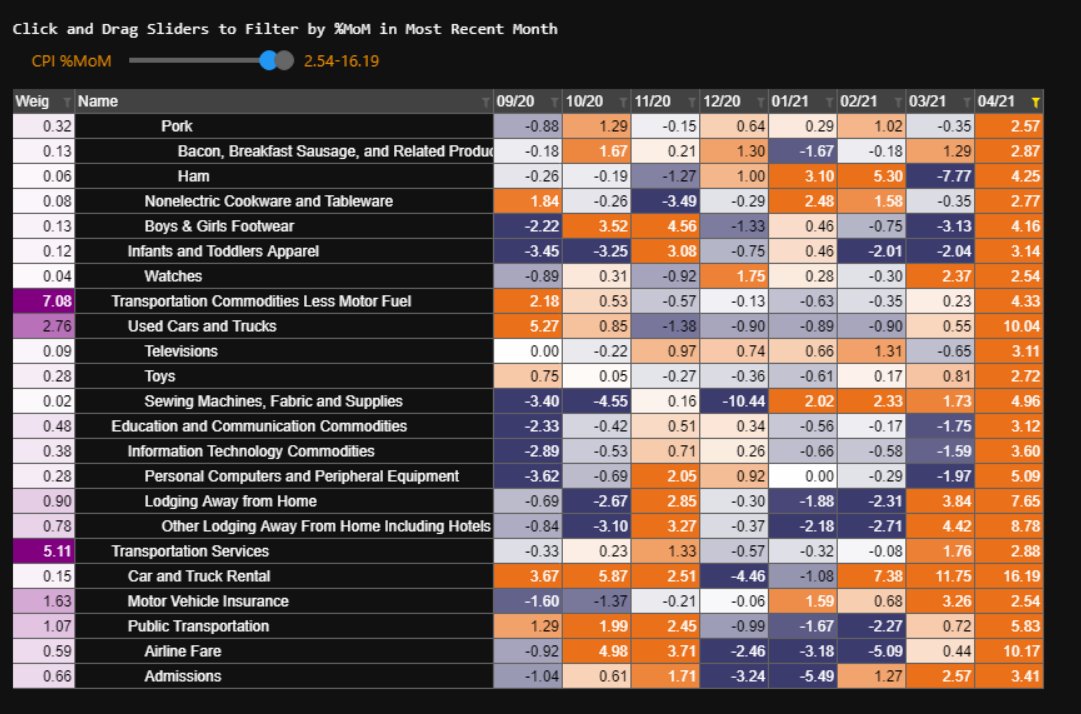 This chart from George Pearkes compliments the table above nicely.
So if you back out the areas of the economy where there is inflation, there really is no inflation at all. I know that sounds ridiculous, and I'm mostly kidding when I say that, but the headline numbers are misleading without proper context.
Thankfully, we have people like Matthew Klein to provide it:
The big drop in airfares and hotel room rates last spring and summer were clearly one-off consequences of a temporary emergency—just like the one-off increases in the prices of meats and household cleaning supplies. Neither one was particularly meaningful for anyone trying to understand what was happening to the price level as a whole.
It's possible, probable if I had to guess, that inflation continues to pick up as the economy reopens. There's been a lot of talk about pent-up demand, and it seems likely that it will overwhelm supply in some areas more than others. But I'm not worried about inflation overheating and crashing the economy.
I certainly could be wrong. We just stimulated the hell out of the economy and haven't seen the full effect yet. But at the very least, it's important to look under the hood, because the headline number doesn't tell the whole story.