A lot of people are making a lot of money. Between crypto and NFTs, things are absolutely exploding.
Earlier this year, you could have gotten a CryptoPunk for a couple of ETH when it was trading at$750. Fast forward to today, and you can't get one for less than 119 ETH, or $407,000.
Earlier this year, you could have picked up Solana, a potential competitor to Ethereum, for under $2. Today it's trading at $121.
The moves that we're seeing are absolutely mind-bending and are creating an unquantifiable amount of FOMO. If this is weighing on you, you are not alone.
I would be lying if I said that I'm not infected. Way back on August 25th, I put $1,000 into Solana with the plan to dollar-cost average every week. I bought it for $71 last week, and now it's $121. A 70% return in under a week. Do I feel like an idiot for not putting in more? No, of course not. But do I wish I put in more? Of course I do. And then I remind myself that I DID NOT KNOW THIS WAS GOING TO HAPPEN. If I did, then this would have been me, minus the beard.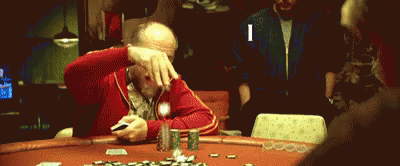 In times like this, it's important to remind yourself that nothing goes straight up. It's important to remind yourself that anything that can gain 70% in a week can lose 70% in a week. And it's important to ask yourself if you can stomach that type of pain.
If you're curious, by all means, I would encourage you to learn, much like I am. But I cannot emphasize enough that you have to control the temptation to get rich quick.
Kudos to all of the people that were early to Penguins and Apes and Ada and everything else that's going vertical. But this idea that you're going to replicate their success is probably delusional, no offense.
I'm into NFTs and crypto and am having fun poking around, so I'm not trying to be a wet blanket. I'm trying to be a voice of reason.