"There has never been a better time to start a company."
a16z led their announcement of a $400 million seed fund by making that claim.
I've spoken to more founders in the past 6 months than I have in the past 6 years. Something big is happening.
Covid forced people to reevaluate their life's work`. A year at home gave them an opportunity to reflect. Am I fulfilled? Do I want to go back? Is this what I want for the rest of my career? The answer is a resounding "no" on a scale that we haven't seen this century.
Founders need money, and they're not having trouble finding it. You might look at the chart below and think this is going to end badly. I think it's just getting started.
An exciting newish business that's helping other businesses grow is AngelList, a platform that gives investors access to capital. AngelList has streamlined the entire process so that investors can focus on doing what they do best, investing, while letting technology handle everything that can be automated. I've had a blast poking around on the site, and so have thousands (millions?) of other people. The chart below shows the cumulative amount of money invested through the platform. Seven billion and gaining momentum.***
Influencers and solo GPs have broadened the playing field for entrepreneurs. There is a third actor in the space worth mentioning. Corporations are getting into the game in a big way. Both the number and dollar amount of deals in the most recent quarter shattered records. The biggest players in the space are Google, Salesforce, and CoinBase.
Every day it seems like TechCrunch is reporting on a $10 million raise or a $3 billion exit. I want to talk about some of the things I've come across lately.
You know what's annoying? When a light appears on your car dashboard. You know it's going to cost you money, but you have no idea how much. You know you're going to have to shlep to Pep Boys. You know a mechanic will show you what needs fixing and that you'll just nod and agree to whatever he tells you. You know you're going to hang out in the waiting room for an hour if you're lucky. More likely, you're going to have to come back later. Which means you've got to arrange for somebody to pick you up, bring you home, and then bring you back. The whole process sucks.
Enter Repair Smith, the proud owner of $42 million in fresh capital. They are trying to fix this headache. Repair Smith helps customers book an appointment online with instant pricing. They'll send a technician to your house or place of business to do what they've gotta do. It's not cheap, but it could be a wonderful solution to the dreaded light on the dashboard problem if they can scale this thing.
Every time you think 21st-century technology has plucked all the low-hanging fruit, you're surprised at the next one. If you listen to the podcast, you've heard me complain over and over again about title insurance. The whole thing seems like such a racket. When you purchase a home, the lender requires you to buy an insurance policy ensuring that you have title to the house. In case, ya know, somebody knocks on your door and says hey, "My great-great-grandparents owned this house." I've now paid title on my home 3 times in under 3 years (thanks to the refi). My prayers have been answered. I recently listened to the CEO of Doma on Invest like the Best. They're trying to clean up the problems to a solution that hasn't changed in a hundred years.
If you've done any shopping online, you've been presented with the option to "buy now, pay later." How is this any different than a credit card? Well, with plastic, you have to pay for your purchase in the next billing cycle or face the wrath of negative compounding via punitive interest rates. With BNPL, you can pay for something over a period of 6 months without any interest. The big players here are Klarna and Affirm, which just announced they're partnering with Amazon.
Sticking with pay, employees all across the nation get a paycheck every two weeks. Why? I don't know. I guess that's just the way it's always been done. But why shouldn't they have the ability to determine how often they get paid? DailyPay is coming. It's inevitable. This will have massive implications for people that are living paycheck to paycheck.
Healthcare is on fire. There are currently 78 healthcare unicorns in that sector with a combined value of over $200 billion. Some of the work being done here will change the world in ways we cannot comprehend. The work that's being done in biopharma and oncology is well beyond my understanding, but CB Insights has a great report if you want to learn more.
The companies I just discussed are easy to understand. One area of the world that is on absolute fire is a mystery to most. I'm talking about the epicenter of innovation today, the crypto complex. Decentralized Finance. The metaverse. Web3 if you're not into the whole brevity thing.
129 blockchain startups raised $2.6 billion in the first quarter of 2021. Let's dive in.
Packy McAwesome recently wrote about the layer 1 protocol, Solana. Solana is less like Bitcoin, which doesn't have a whole lot of utility*, and more like Ethereum, which has all sorts of use cases from smart contracts to the building of decentralized applications. Look what's going on here. Look at all of these companies that didn't exist 40 minutes ago! It's incredible.
You might think NFTs are a joke. Fine, whatever. But check out this digital art studio and tell me it's not mind-blowing stuff.
Most people don't know what a DAO is, but maybe you've heard of Uniswap, one of the biggest out there. Think of DAOs as a modern organization native to the internet**. Tech Crunch described them as:
A paradigm shift in the very idea of economic organization. It offers complete transparency, total shareholder control, unprecedented flexibility and autonomous governance.
Here's a little more meat from Packy::
A DAO is "decentralized" in that it runs on a blockchain and gives decision-making power to stakeholders instead of executives or board members, and "autonomous" in that it uses smart contracts, which are essentially applications or programs that run on a publicly accessible blockchain and trigger an action if certain conditions are met, without the need for human intervention.

More simply, DAOs are a new way to finance projects, govern communities, and share value.
So what's going on in the DAO ecosystem? My god, behold.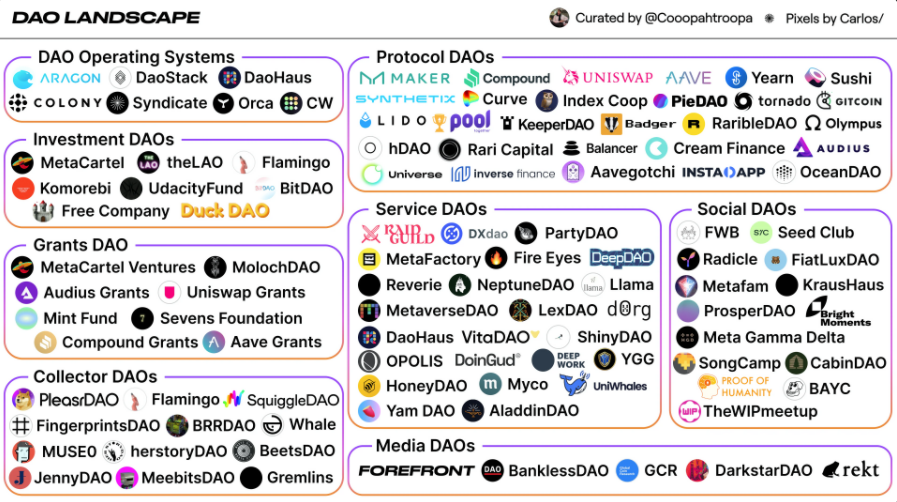 Technology laid the foundation. Low interest rates made borrowing easy. And the pandemic lit the fuse. New business bombs are detonating every day.
I don't know how all of this transforms our economy or what it does to the stock market, but I could not be more bullish on the business of business.
**Did I just become a tech blogger? 
***This chart from AngelList shows sourced capital by year. Good lord.