This chart lit up the financial Twittersphere last week.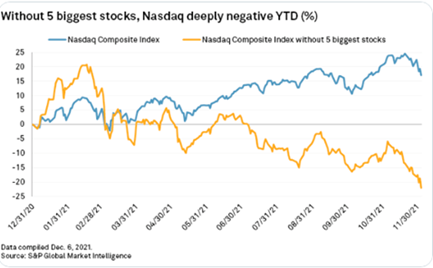 Without the 5 biggest stocks, the Nasdaq Composite, allegedly, would have seen its 2021 return go from +15% to -20%.
Being on the receiving end of a million aaaackshuallys is like being at a football game without any restrooms. That's not where you want to be. So Gavin Baker, recipient of said aaaackshuallys, defended his honor and came up with some real and verified numbers below.
1) Once and for all: here are the final numbers. I did them myself under the supervision of two math wizards.

The Nasdaq is up 21.17% YTD.

AAPL, MSFT, GOOGL, TSLA & NVDA are the top 5 return contributors YTD.

Excluding the top 5 contributors, the Nasdaq is up 5.79% this year. pic.twitter.com/QOGMOOSi1H

— Gavin Baker (@GavinSBaker) December 9, 2021
The actual difference isn't quite what was shown in the first chart, but startling nonetheless. +21% to +6%. Wow. But so what?
Here's the so what. When the biggest names have the biggest returns, as a stock picker, it's hard to outperform. Google and Microsoft are up 67% and 51% ytd. If you're managing a portfolio and these names aren't in them, good luck.
But I still think the chart is misleading. Maybe this is a bad analogy but here it goes. Last year NBA MVP Nikola Jokic played on an all-star team alongside Giannis, LeBron, Steph, and Luka. That starting 5 got 69% of MVP votes last year. Without Jokic, they only got 32% of the votes. If that doesn't make any sense…exactly.
Here's a better way to look at the point trying to be made. And to be clear, the point the chart is getting at is that it's just the mega-cap names leading the rally and without them, the market would be up only a little. I don't think that's accurate. That sort of analysis doesn't make much more sense than that NBA MVP data point I provided. The rest of the team was still good without Jokic, and the rest of the tech market is still good without the mega-cap names. Now, I will grant you that a lot of the names getting their head bashed into the cement aren't in the NASDAQ-100, but still, +16% for the equal-weight version is prettay, prettay, prettay good.
This idea that the market is being driven by mega-cap names is easier to debunk in the S&P 500.
Looking at this chart, my first reaction was, "Wait, the S&P 500 is up 29% YTD?" Unbelievable.
Back to the original point. I'm sorry, I don't love the "if these stocks didn't exist then I wouldn't be having such a rough year" excuse. It's just not true, as Nick showed yesterday. Smaller stocks are actually performing very well. Now, to be fair, these are tiny companies, with a median market cap of $340 million in the first bucket. But go out to the 5th decile and its performance mirrors the 9th and 10th, and that has a median market cap of $2.4 billion.
Outperforming the market is hard. If we're not blaming mega-cap tech then we're blaming something else. To quote Jeremy Grey, backer of Holy Shirts and Pants, "Rule #76; No excuses, play like a champion."
*I know this is the Nasdaq 100 and not the composite. Sameish thing, see Nick's take on it