If you want to listen to me read this blog post, you can do so below. Otherwise, jump to the text.
There are three main stories in the housing market.*
People are moving out of apartments and into houses.
People who are already in houses are staying put.
People who haven't already bought a house are getting priced out.
Interwoven into all three of these are demographics. The largest segment of the U.S. population is people in their late 20s and early 30s. These are the people most likely to be first-time home buyers.
When Covid hit, people who were planning to move out of the city and into the suburbs did so in a hurry. This drove rents down…
…And home prices way up, as you can see in this chart from Len Kiefer. The median sale for an existing home rose 14% in January.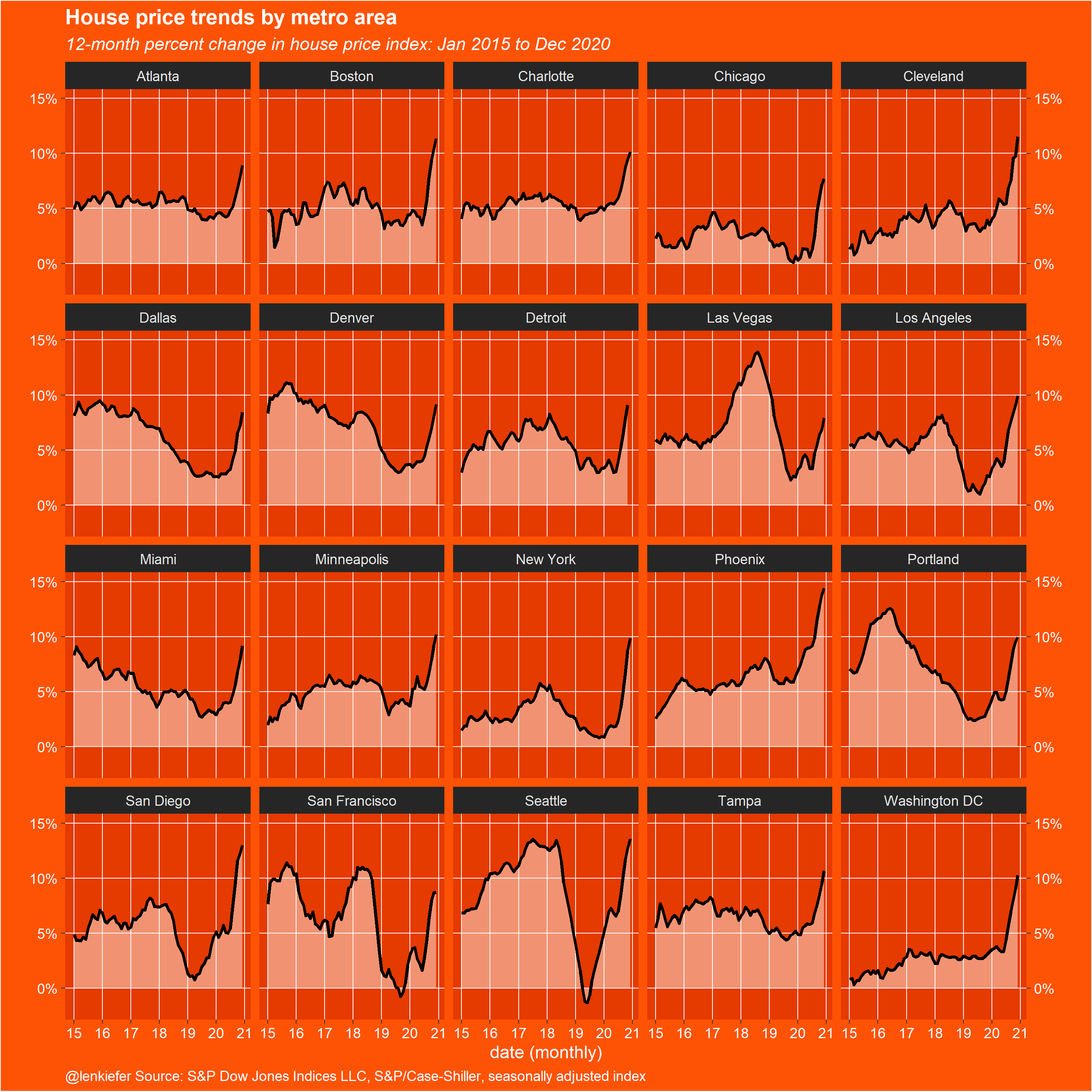 Demand is not the only factor that's driving prices higher. As you can see in the chart below, a lack of supply is the oxygen for this fire, and low-interest rates are the jet fuel.
The shortage of houses on the market is obviously a result of the pandemic. I expect this chart to look a lot different in 12 months than it does today, and hopefully, that will ease some of the pressure we've seen in terms of rising prices. Because for every young person who could get into a house, others have been priced out.
I was putting this post together when an email came in from an Animal Spirits listener.
The real estate market in Texas is tough right now for a first time buyer and I wanted to get your advice.

Let me provide some context first. I am 24 years old and have about $80,000 saved up with no debt. My fiancé and I have stable jobs and make good money. It seems like the perfect time to buy a place to start settling down in.

Now, this is where is gets interesting. We are not looking in a big city like Austin or Dallas, we are looking in the STICKs between Fort Worth and Waco. I am in the cattle business so the farther away from civilization I can be the better. My fiancé is a nurse practitioner and works three days a week and has no problem commuting about an hour both ways to her hospital in Fort Worth. But even in remote places, livable houses with 5+ acres are going on the market and under contract for more than asking price (which was already insanely high) in less than 24 hours. I have kept a pretty strong pulse on the market within about a 100 mile radius for the last two years and have never seen anything like it.

I know Texas is a popular destination for many people from the West Coast, but I didn't think they would drive people out of the cities to towns that only have a post office and a bar called "Rednecks" (I shit you not) this quickly.

I have some friends in real estate and they are saying that housing inventory in less than half of what is usually is, and cash buys are up roughly 40%. Now hopefully inventory will start to build back up with Spring around the corner, but the cash sales worry me. I felt like $80,000 was a pretty sizable amount to have saved up, and would provide me with some buying leverage. Not the case anymore.

Recognizing that buying a house is a much more personal and emotional decision than other investments, do you feel like making the largest purchase of my life in such a strong seller's market is a mistake? The thought of continuing to rent makes me sick, but so does the thought of buying a house that is 30% overvalued and not exactly what I am wanting. I'm sure it seems like I am asking you time the rural Texas real estate market, but do you both feel like this real estate boom has some legs?

Obviously, the pandemic is a big part of this. People are barely leaving their houses right now, let alone selling them.
I feel for this person and everyone in a similar situation. Imagine saving up $80,000 only to find out that it's not enough for your first home!?! You would think prices will come down, but who's to say? Yes, supply will come back on the market, but that might be soaked up by demand.
Here's what I would say to people in this situation. If it's the right house, buy it. If it's a house you can see yourself raising kids in, then buy it. I understand that your home is your biggest asset (and liability) for most people, but it's more than that. It's where you live. It's where you raise a family. It's where you will have your most cherished memories. If you end up overpaying, well, there are greater tragedies in life.
However, the above is only valid if this is a forever home. You can never be sure of what the future holds, but assuming it's the right house, then I wouldn't worry too much about overpaying for it. If it's a starter home, that's a different story entirely. If you're going to be there for 5 years or so, then overpaying can cause a significant amount of damage.
There's no right answer to the "what should I do question?" It's as much a personal decision as it is as a financial one.
The housing market is on fire, which is great for homeowners, but it's terrible for people trying to get in on the American Dream.
*There is more nuance to the stories than what I laid out, but I think this does a decent job capturing what's happening