*Nobody reads to the end of a blog post. But there is a surprise waiting for you. So please, do it.*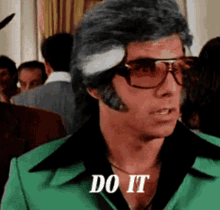 The pandemic changed everything. The way we live. Where we work. How we spend money.
It forced us to reevaluate so many facets of our daily life. One small change in the grand scheme of things, but very important for today's topic, is how we in the financial services industry get together.
A few times a year we would meet in a hotel for the sole purpose of getting some face time. Seeing friends. Having drinks. Sharing business ideas. Making business deals. That's what financial conferences have always been about for the attendees. But to facilitate this gathering, the conference sponsors had to sell packages to asset management firms. Somebody's gotta pay for this thing.
The main feature of that deal was putting one of their people on stage to talk about a product. Nobody complained. It's just the way it's been done. But over the years, as someone who has been involved in the production of these events, I've heard, and thought, that there has to be a better way. Can't we just, like, hang out with our friends and meet new people and sure, learn a few things without being packed like sardines into a ballroom?
Now my friends, I'm thrilled to say that we can. For the first time in a long time, when it comes to helping put together an event, I'm excited to be excited.
Future Proof. That's what we're doing. Every industry is under assault by current competitors and future disruptors. Our industry is no different. If you want to be Future Proof, you need to be here.
This is not a 20th century financial advisor conference. It's a 21st century financial services festival. Think South by Southwest with advisors of today and products of tomorrow. No pay to play. No being forced to sit through boring talks. We're doing something very different.
We're taking over Huntington Beach. Four blocks. Shut down. The restaurants and the hotels will be filled with our people. To pull off something so audacious, we had to get the mayor's buy-in.
"We are so thrilled to host Future Proof here in 'Surf City USA,' and are incredibly grateful for their generous donation to our local oil spill recovery efforts. We are honored to welcome more than 3,000 attendees next fall to our coastal town, and wish Advisor Circle much success in their planning efforts for this inaugural event!"
Like the mayor, I'm also thrilled. It's so great to get the band back together. I'm working on this with my RWM partners and my Advisor Circle friends. Matt Middleton, Jon Swolfs, and Matt Hougan are some of the finest people in the industry.
I'm so excited. You gotta come. We had almost 350 people sign up on day one! Join us from September 11-14, 2022.
I've got a discount code to get 50% off. Go to this link, and hit "genzero." It expires at midnight tonight, so don't miss out. Can't wait to see you there!
More reading:
Future proof bursts onto the scene