"If you can appreciate the past, live in the present, and plan for the future, then what more can you ask for?"
Nick Maggiulli nailed it in The Never-Ending Now, when he described how to strike the right balance in life. Of course these are just words, and like everything else, they're easier said than done.
When you're young, you have no past. It's all about the present as your whole future lies ahead of you. Like a lot of kids, I  was overweight the former and underweight the latter. Unfortunately, I took it to an extreme.
If I didn't meet Josh, I'd be working at Starbucks. I've used this exact phrase countless times over the last ten years. I don't know if I say this to get a laugh out of people or because I believe it. It's probably somewhere in between.
I was thinking about my past life because we just had our ten-year anniversary. I hadn't planned on writing another look back piece, but I couldn't help but think about it while reading Tom Morgan's post, What Nobody Tells You.
This line hit me so hard that I stopped reading and copied and pasted it to Tom:
I believe your present suffering is directly proportional to your future potential.
Suffering is probably too strong a word, but I went through it in my early twenties. I got into the Kelley School of Business out of high school, which was a big deal for me at the time. I was a jackass of a student my whole life, but I did well enough on my SATs to get into what at the time was a top 15 or so undergraduate business school.
In my head I thought, "See, I knew I didn't have to work hard to get good results." Wrong. The habits that started in elementary school, not paying attention and not doing my homework, shockingly carried over to college. The results, however, did not. I got a 0.9 in my first semester and a 0.8 in the second one. They rightfully sent me home.
I was embarrassed and determined to get back there. Take a year off, get good grades, and then maybe we'll let you back, I was told. Well, they did, but one year at home didn't undo a lifetime of procrastination and not taking anything seriously. They let me back for my junior year on academic probation. I was given a second chance, but not a third. When I dropped calculus, which I was going to fail anyway, they kicked me out for good.
Sharing this news with my friends and parents was rough. I was humiliated, even if it was just the consequences of my own actions.
So I came home and graduated from Queen's College a year and a half late, but just in time to enter one of the worst job markets college grads had ever seen. With an eye on finance, I got a job. Sure, I didn't get paid for the work I was doing, and I had to pay rent, but technically, I was employed by one of the largest insurance companies in the world. At first, I was super excited. Once again, I had the feeling of, "See, I knew I didn't have to work hard to get good results." Once again, I was dead wrong.
The agency I was at was one of the largest producing ones in the entire country. Everybody wore suits. Everybody was doing well, or so it appeared. While the guys at the top were making a lot of money, the others reeked of"fake it till you make it." It didn't take long before misery set in.
I hated cold calling. I hated lying. I hated watching my friends get real jobs while the bank account I spent years building slowly drained. And I hated the fact that my mother was dying.
I couldn't sleep. My lower eyelid twitched for months on end. I knew I needed to leave my job, but I didn't know where to go. Desperate, I considered moving to San Antonio for an internal wholesale role. I wish I was joking. If my mother didn't have months to live, I would have gone.
I wasn't driven to improve my future until I hit rock bottom. And then a fire was lit that still burns inside me today.
It's fair to say that my present suffering at the time was directly proportional to my future potential. It was impossible to know it at the time, as I seriously contemplated packing it in and getting a job as a barista.
A lot of people never reach their future potential for a million different reasons. This picture from Tim Urban perfectly illustrates how life works, for better and for worse.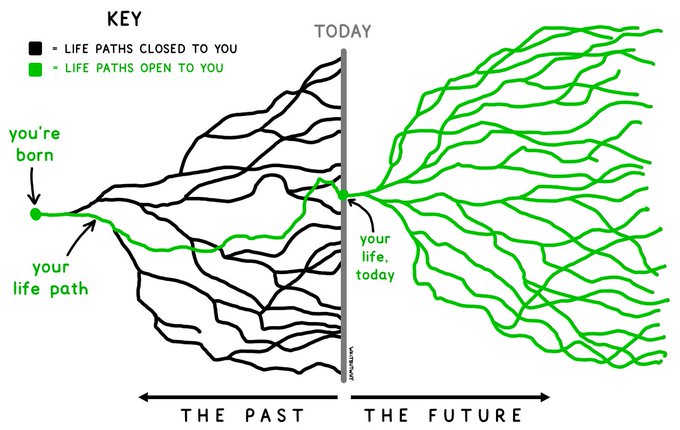 It's not fun to look back on a painful past that was entirely self-inflicted. But it's made where I am today that much more fulfilling. I have more than I'll ever need, and that's because it wasn't too long ago that I had nothing.
I'm still overweight today, but I've found a good balance between the past and the future.