Markets amirite? ARKK was down 9% in the morning and finished up ~3% on the day.
The Russell 2000 was down more than 2.5% in the morning and finished up more than 2%. This is pretty rare. As you can see on the chart below, it's happened near or at previous bottoms, like 2002 and 2020. But its also happened near, well, not bottoms, like 2007 and 2008.
The S&P 500 had an even more unusual day, falling 4%* at the lows, and finishing in the green. Going back to 1970, the only other times this happened were October and November 2008. Definitely not a bottom.
What used to take place over weeks and months is happening during the course of a day. Markets move faster when everyone knows everything.
I wrote about this during the pandemic, when in just 20 days, we experienced the fastest bear market ever, by a wide margin. The speed at which news travels is impacting the market in ways that are still hard to quantify.
I followed that up in June with "The Fastest Stock Market Ever"
Not in my wildest dreams did I expect that just 91 days later, the opposite would occur.

From March 23 to June 2nd, the S&P 500 gained 38%, which is the largest gain ever over a 50-day period.
And today, the S&P 500 had the fastest -10% decline ever to start a year. Feast your eyes on this chart from Michael McDonough.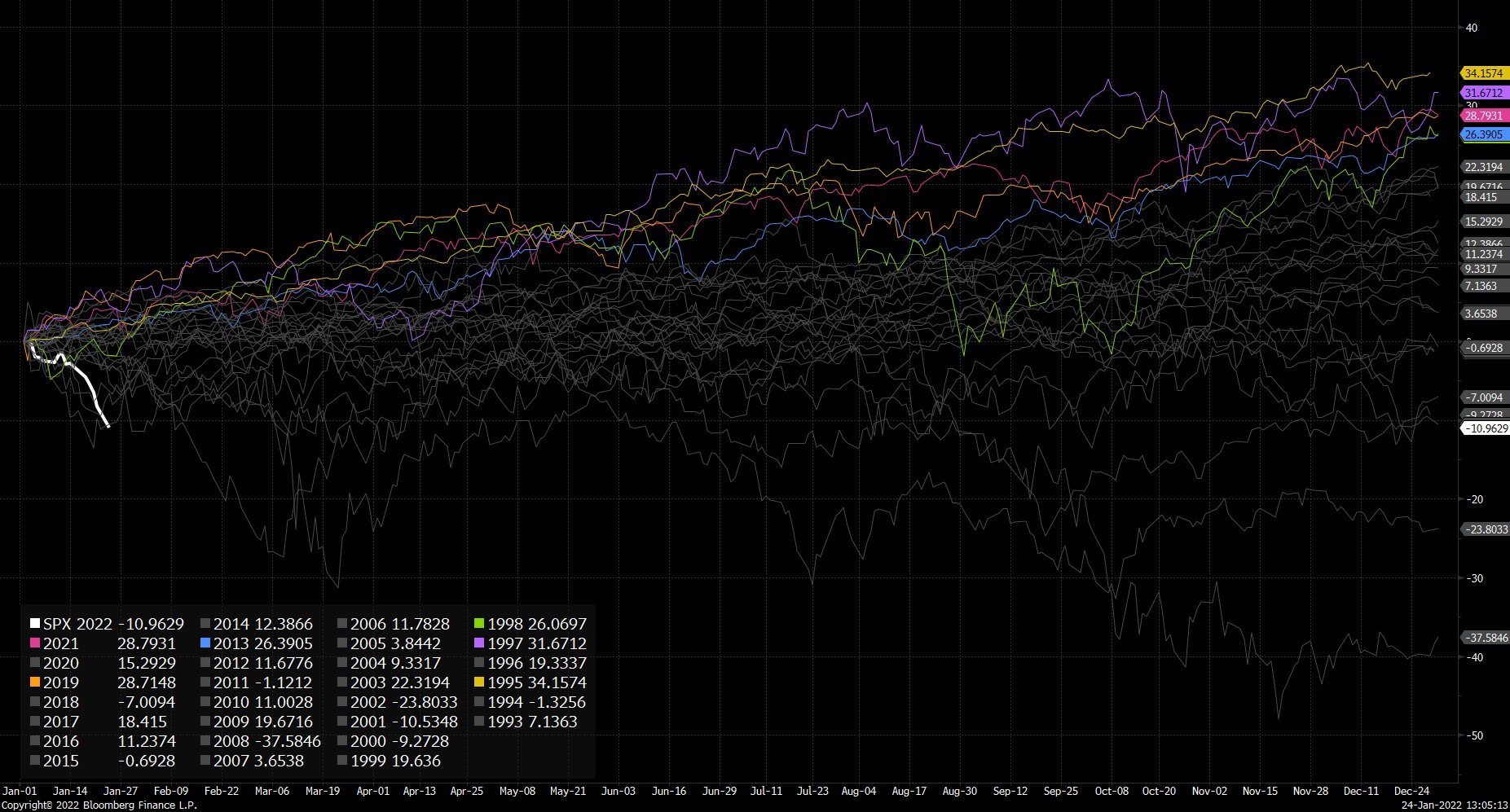 This is a result of some dynamics that, frankly, are over my head. Luckily, there are smart people out there studying the plumbing of the market and reporting back to us. Corey Hoffstein wrote about fast-moving markets in a post called Liquidity Cascades. In short:
"Unexpected melt-up and melt-downs are thought to be justified through a combination of accommodative monetary policy, the influence of passive investing, insufficient liquidity + increased leverage at the worst times."
Here's the TL:DR visual
If we know that markets move faster these days, and I think that's pretty self-evident, then the logical thing to do is trade less, or trade a lot more. You don't want to be a middler.
I'm not sure whether fast-moving markets are, on balance, good or bad. On the one hand, it's pretty terrifying to see stocks fall so quickly. On the other hand, the quicker it starts the quicker it can end. A bear market that lasts 30 days is a helluva lot better than one that lasts 30 months. Wherever you come down on this, what's not up for debate is that the market moves much more violently today than it used to. Do more, or do less.
*Okay, 3.99%